Safari Brothers with NatGeo Wild
News From HQ |
11 October 2016
Letaka Safaris is very proud to announce the launch of a six part television series entitled Safari Brothers which will begin screening in the USA on 14 October 2016.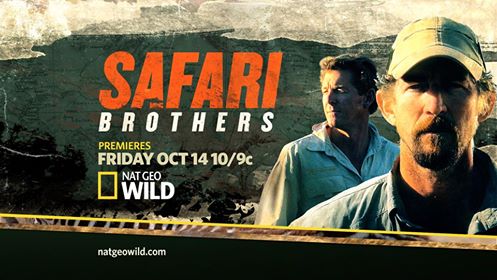 Safari Brothers documents the ups and downs of running a safari company in Botswana's Okavango Delta. Brothers Brent and Grant along with their father Mike and a large team of Letaka stalwarts take us through the myriad challenges which form the background of running a safari company in Africa. The show was the brainchild of Patrick Greene, owner of Symbio Studios and Emmy award-winning director of the hugely successful Jeff Corwin Ocean Mysteries series. Patrick first met Brent and Grant whilst filming an Ocean Mysteries episode in Botswana and nearly two years later Safari Brothers was born.
The six episodes which make up Season One of the Safari Brothers show were filmed over 3 months at the Letaka Safaris base in Maun as well as many wilderness locations including Moremi Game Reserve, Chobe National Park, Central Kalahari Game Reserve and the Makgadikgadi Pans National Park.
For those of you not in the United States, here is a list of the international air dates for Safari Brothers:
Nat Geo Wild UK 1st November 2016
Nat Geo Wild SE Asia 1st November 2016
Nat Geo Wild Middle East 1st November 2016
Nat Geo Wild North Africa 1st November 2016
Nat Geo Channel India 1st November 2016
Nat Geo Channel Korea 1st November 2016
Nat Geo Wild Africa 4th November 2016
Nat Geo Wild Europe 4th November 2016
Nat Geo Wild Germany 18th November 2016
Nat Geo Wild Australia 11th December 2016
The show not only follows the trials, tribulations and triumphs of Letaka Safaris but also showcases Botswana as a premier travel destination. We hope you enjoy watching the show as much as we enjoyed making it 😎